Build once, deploy everywhere using Sunshine Conversations' multi-channel translator
With Sunshine Conversations integrated, live agents and bots can easily send any rich message type, like quick replies, images, gifs, carousels, location requests, and more, across every channel.
If a message type isn't supported by a channel, Sunshine conversations understands the message intent and displays it using the best available format.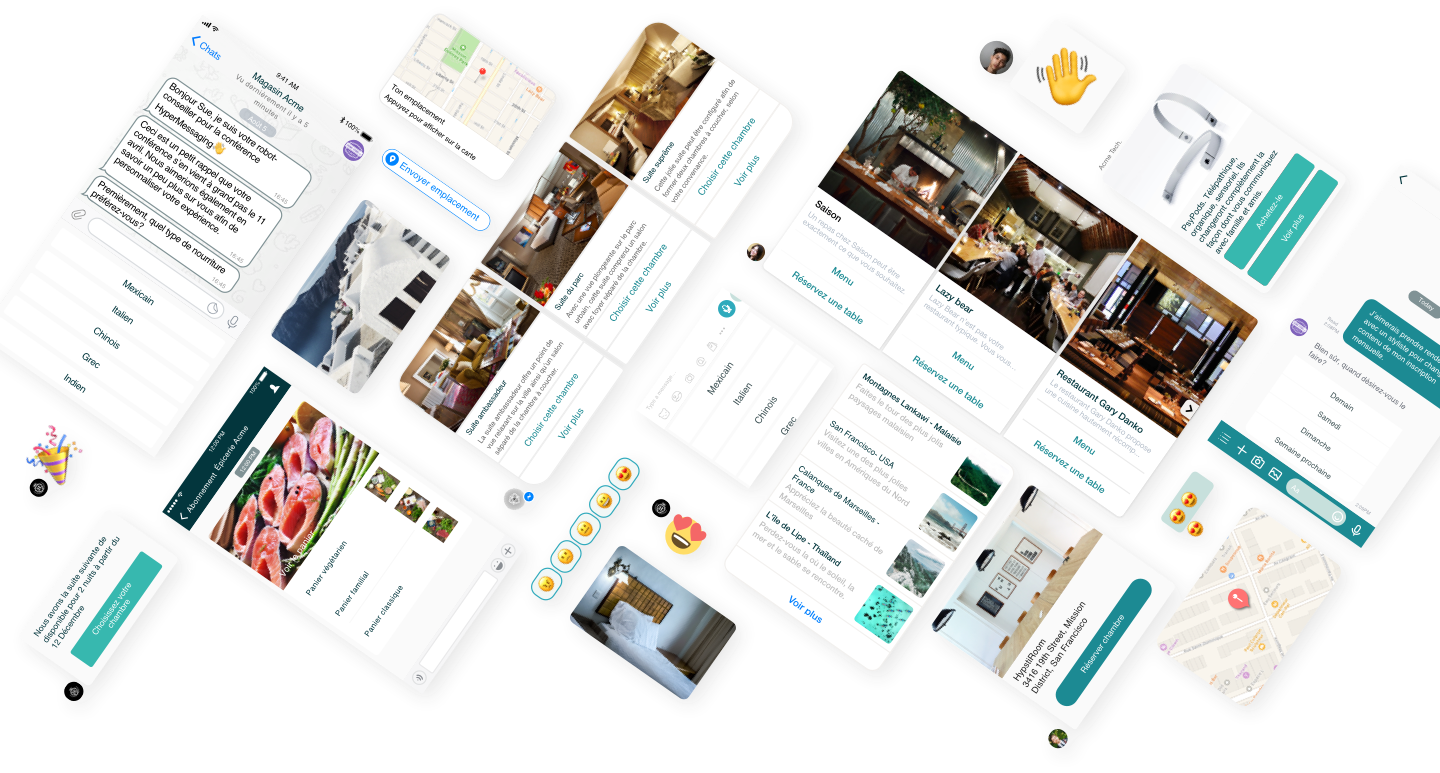 From "Dear Sir or Madam" to 👋
Bring business communications into the modern age. Give your customers the power to have more human and engaging customer conversations.
Emojis, Gifs, Images
Deliver friendlier and more impactful customer experiences
Messages initiated by a business that contain an emoji are four times more likely to get a response from a consumer than those that don't. Empower businesses to do better than sending impersonal text-only messages, helping them increase customer engagement and brand affinity.
4x
more likely for customers to respond when a message includes an emoji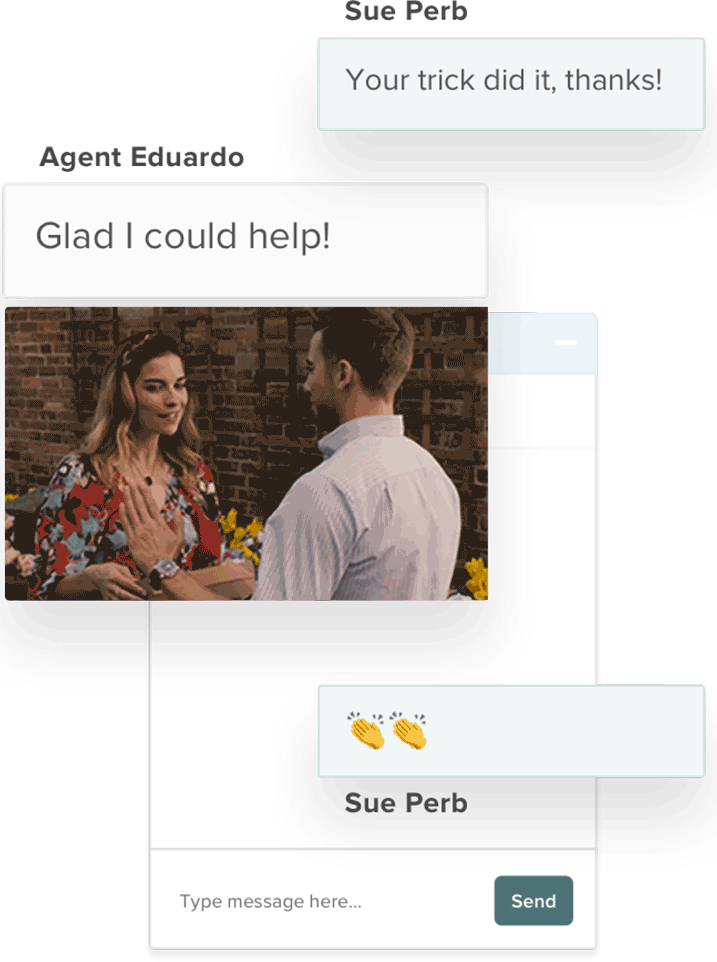 Buttons, Quick replies, Carousels
Drive conversions through more intuitive interactions.
Reduce friction and increase response rates by making it easier and more intuitive for users to complete tasks and transactions. Enable businesses to send surveys to their customers in the most optimal format for each channel. Allow users to answer with a few clicks instead of typing.
3x
click-through lift from adding a call-to-action button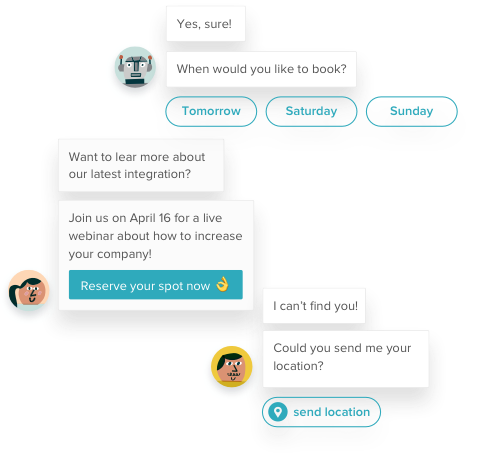 Structured messages & Carousels
Present more engaging and actionable content
Present more engaging and actionable content
Businesses invest a great deal of time building out their knowledge bases, FAQs, marketing videos and other brand resources. Help them leverage these assets in the context of the conversation, delivering them in the richest, most engaging formats available on each channel. Easily manage customer lifecycle interactions with transaction-driven confirmations, receipts & more, whether they're delivered by humans or bots.
10x
higher engagement with carousels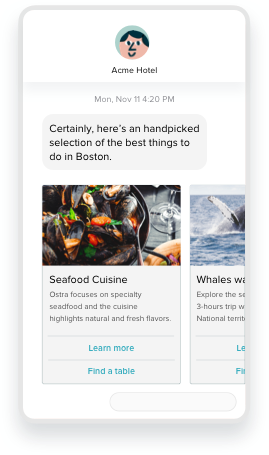 Conversation Extensions
Go over and above each channel's native features
Present more engaging and actionable content
Sometimes a channel's native features aren't sufficient to support more complex customer interactions like multi-step surveys, hotel bookings or restaurant reservations. Sunshine Conversations' Conversation Extensions allow you to create interactive in-chat experiences that work everywhere customers are communicating.
2.3x
conversion to purchase compared to website and app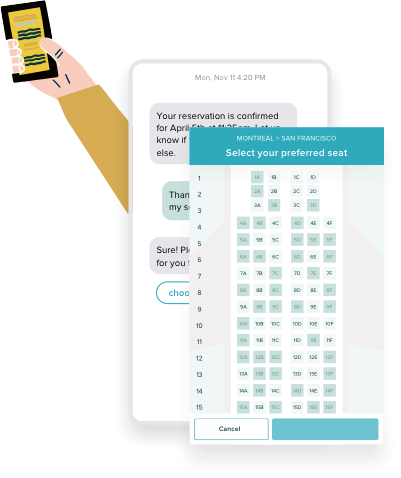 Key features
Exactly what you need to enable rich & interactive conversations.
Automated message formatting
Sunshine Conversations optimizes messaging format automatically for every channel. No channel-specific code required.
Message translation override
You have full control. Specify exactly how you want each message to render. Retain access to native channel features when you need them.
Formatting support for complex use cases
Power multi-step and multi-select transactions within the chat window with Conversation Extensions, Sunshine Conversations' own custom message type that works on any channel.
Canned messages
Soon
Easily build and support canned agent responses and complexed structured messages from within your own software through Sunshine Conversations' latest API.